Inspiration & Colors
The palette of this silk scarf is inspired by the Russian shawls and their surprising color combinations. With these large red flowers on a black background, the designer proposes a reinvention of the classic and modernizes it in an audacious drawing.
To style with:
The multitude of colors joined together on this black background makes this scarf very easy to wear, especially with dark colors. A bold designer accessory to wear every day.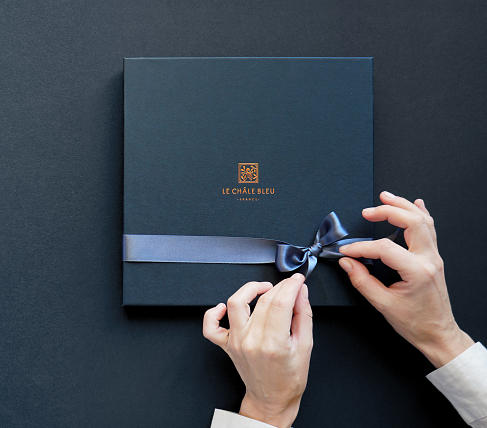 Like all Le Châle Bleu's creations, this shawl is imagined and drawn by hand in France and crafted in Italy, in the Como region. The fine fabric made of a soft blend of wool and silk is woven by one of the best weavers, rich in its century-old history and world renown. The sewing is done in the same region by local craftsmen.
You will receive your shawl in its precious gift box adorned with a ribbon. Because it is just as important to please yourself as it is to please others.
Delivery
Your scarf will be shipped within 2 to 3 working days, so that we can give maximum care to the preparation of your order in its beautiful blue box adorned with ribbon.
• Delivery is ensured by Colissimo against signature.
• Once your order is shipped, you will receive the tracking number by email.
• Delivery in Metropolitan France is free for orders over 100 €.
• For other destinations, the delivery price will be indicated when you place your order, once you have completed the delivery address form. You can find more information on the FAQ page.
• For information on returns, please visit FAQ page, part "Delivery and returns".
Care
We suggest you to handle your scarf with delicacy and keep it carefully folded. This accessory requires a high quality dry cleaning, or a very delicate hand washing. Dry your scarf flat and iron it while it is still slightly damp. Please iron your scarf with the "silk" settings.