The Drawing
Because at Le Châle Bleu scarves are designed to be worn, the four corners of the design feature four different sets, to be revealed depending on how the scarf is folded.
The first is occupied by the Sun and Moon, the two energies that create the world. In the second, the elegant design of interlaced snow-covered branches is brought to life by brightly-colored bullfinches. The third, the most magical, is inhabited by the enchanting Queen Winter: she seems to fly away in the swirl of skirts and luxurious cape. Finally, the fourth shimmers with snowstorm arabesques and sparkling ice crystals, forming an art-deco-inspired gemstone necklace once the scarf is worn. In the design of the border, we discover the symbols of the four alchemical elements, where Earth is Autumn, Water is Winter, Air is Spring and Fire is Summer.
The Story: the Artist's Note
"The classical theme of the four seasons had been on my mind for a long time—until one day, at the beginning of spring, the vision of four magnificent Sisters appeared to me. Together, they tell a tale of magical powers and strong female characters: it begins with epic conflicts, leading to a harmonious succession of seasons. It became clear to me very quickly that each Sister deserved an entire scarf, as there were so many stories to tell.
To be continued ✶"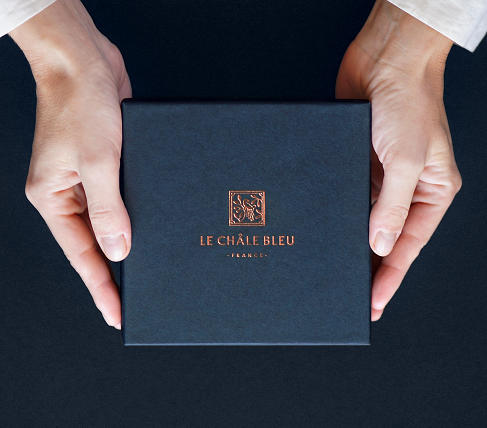 Like all Le Châle Bleu's creations, this bandana is imagined and drawn by hand in France and printed and sewn in Italy, in the Como region.
You will receive your scarf in its precious gift box adorned with a ribbon. Because it is just as important to please yourself as it is to please others ♥
Delivery
Your scarf will be shipped within 2 to 3 working days, so that we can give maximum care to the preparation of your order in its beautiful blue box adorned with ribbon.
• In Metropolitan France the shipping is carried through a registered letter against signature.
• For other destinations, the delivery price will be indicated when you place your order, once you have completed the delivery address form. You can find more information on the FAQ page.
• Once your order is shipped, you will receive the tracking number by email.
• For information on returns, please visit FAQ page, part "Delivery and returns".
OR (gavroches)
Care
We suggest you to handle your scarf with delicacy and keep it carefully folded. This accessory requires a high quality dry cleaning, or a very delicate hand washing. Dry your scarf flat and iron it while it is still slightly damp. Please iron your scarf with the "silk" settings.