The Story of the Artwork
This starry drawing is born from a quote.
"Beautiful as the Moon,
bright as the Sun,
majestic as armies under their standards" .

A quotation from the Song of Songs, no more and no less. First encountered in a novel, where it was used as the ultimate compliment to an unforgettable woman, this phrase dazzled and fascinated the brand's designer. The strong and dangerous music of these words demanded the flamboyance and contrasts of Art Deco. Add to this the old dream of a starry scarf design, and you have the story of this drawing. A dream, a symphony, an ode to all hearts beating wildly, to all the heads in the stars.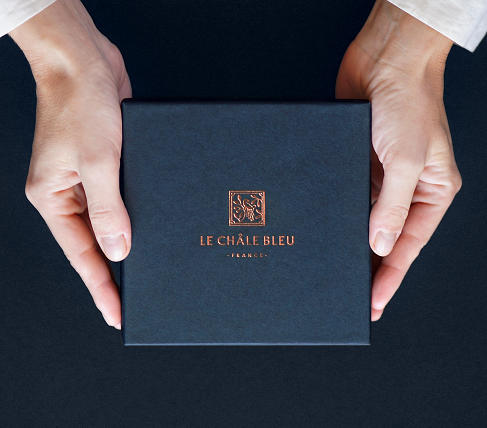 Like all Le Châle Bleu's creations, this bandana is imagined and drawn by hand in France and printed and sewn in Italy, in the Como region.
You will receive your scarf in its precious gift box adorned with a ribbon. Because it is just as important to please yourself as it is to please others ♥
Delivery
Your scarf will be shipped within 2 to 3 working days, so that we can give maximum care to the preparation of your order in its beautiful blue box adorned with ribbon.
• The delivery price of your gavroche scarf in Metropolitan France is 4.90 euros and is carried through a registered letter against signature.
• For other destinations, the delivery price will be indicated when you place your order, once you have completed the delivery address form. You can find more information on the FAQ page.
• Once your order is shipped, you will receive the tracking number by email.
• For information on returns, please visit FAQ page, part "Delivery and returns".
OR (gavroches)
Care
We suggest you to handle your scarf with delicacy and keep it carefully folded. This accessory requires a high quality dry cleaning, or a very delicate hand washing. Dry your scarf flat and iron it while it is still slightly damp. Please iron your scarf with the "silk" settings.