Inspiration and colors
Stunning and very flattering, the shawl's palette of colors owes its inspiration to the blue forest of the Vosges mountains. Contrasted with touches of black ink and warmed by soft pink and amaranth, it envelops the wearer in a radiance that awakens and evokes the mysterious side of the deep forest.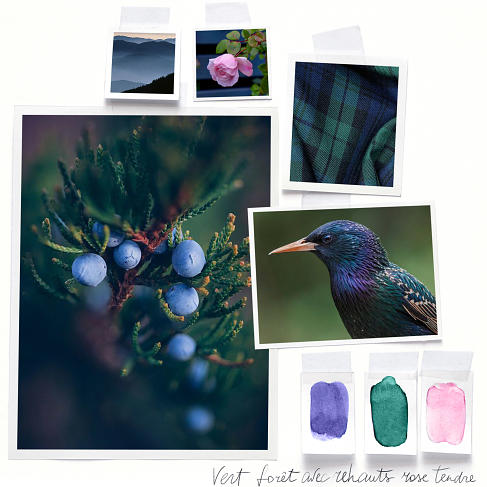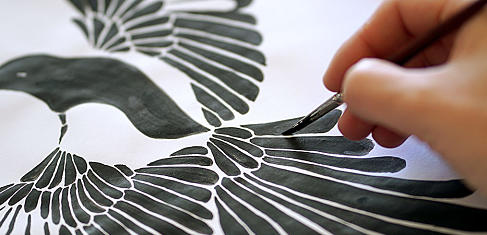 Once upon a time...
..there was a Magpie. It was neither a poor magpie nor a rich magpie, it was a beautiful magpie. With a pretty sophisticated sense of humor and a lot of self-confidence. In her eyes, she had only one flaw..
Discover what happens next in the chapbook accompanying this scarf.
Designed in France, made in Italy
Like all Le Châle Bleu's creations, this scarf is imagined and drawn by hand in France and crafted in Italy, in the Como region. It is printed on a soft and cozy blend of silk and Modal, a natural fibre obtained by spinning wood cellulose fibres. It is a very supple fabric, with a particularly soft and silky touch, endowed with a discreet shine. You will receive your scarf in its precious gift box adorned with a ribbon. Because it is always as important to treat yourself as it is to treat others.
Delivery
Your scarf will be shipped within 2 to 3 working days, so that we can give maximum care to the preparation of your order in its beautiful blue box adorned with ribbon.
• Delivery is ensured by Colissimo against signature.
• Once your order is shipped, you will receive the tracking number by email.
• Delivery in Metropolitan France is free for orders over 100 €.
• For other destinations, the delivery price will be indicated when you place your order, once you have completed the delivery address form. You can find more information on the FAQ page.
• For information on returns, please visit FAQ page, part "Delivery and returns".
Care
We suggest you to handle your scarf with delicacy and keep it carefully folded.
This accessory requires a quality dry cleaning, or a delicate hand washing, however be aware that in this case the
appearance of the fringes may change. Dry your scarf preferably horizontally and iron it while it is still slightly damp. You can iron your scarf with the "silk" settings.