Once upon a time...
… there were Butterflies. Our story begins at the dawn of time, when the world was young and everything, absolutely everything was still possible.
During long sunny days, butterflies twirled from flower to flower, serene witnesses of the emergence of this new world. When the darkness of the night enveloped them, they humbly folded their wings to fall asleep.
But there were dreamers among them: those who, even in the most perfect happiness, remained tormented by strange desires. Illuminate the night and understand the darkness: such was their dream, one of those that cannot be made while sleeping.
Then one day, She arrived, the one who dared to fly higher than others. In pursuit of the disappeared Sun, she ascended high enough to find it and to figure out the structure of the world. Her desire to share its light was so ardent that it consumed her. From her ashes a new celestial body was born and was named after her, Moon. Since then, she guides the flight of her kind, those who do not want to sleep, but dream of something more.
The Story of Artwork In the continuity of the Japanese cycle started with the story "Roses and Dragonflies", the design "The Moon Butterfly" is born from the fascination of the brand's designer for Japanese kimonos. Graphic and abstract, the butterfly pattern was created entirely in indigo ink and scanned with minimal retouching - thus preserving the slight variations in color and the irregularities of the brush.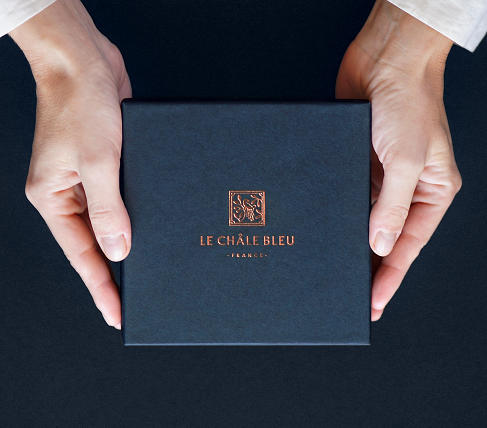 Like all Le Châle Bleu's creations, this bandana is imagined and drawn by hand in France and printed and sewn in Italy, in the Como region.
You will receive your scarf in its precious gift box adorned with a ribbon. Because it is just as important to please yourself as it is to please others ♥
Delivery
Your scarf will be shipped within 2 to 3 working days, so that we can give maximum care to the preparation of your order in its beautiful blue box adorned with ribbon.
• The delivery price of your gavroche scarf in Metropolitan France is 6.25 euros and is carried through a registered letter against signature.
• For other destinations, the delivery price will be indicated when you place your order, once you have completed the delivery address form. You can find more information on the FAQ page.
• Once your order is shipped, you will receive the tracking number by email.
• For information on returns, please visit FAQ page, part "Delivery and returns".
OR (gavroches)
Care
Please, handle your scarf with care. This accessory requires a high quality dry cleaning, or a very delicate hand wash: please do not leave it soaking wet, but wash it gently in soapy water. You can iron your scarf using the "silk" settings.Designed in France, made in Italy