Once upon a time...
... there was a Dragonfly. Pretty as she was, this Dragonfly was very keen to enjoy the dew of each day. She wanted to do only what she liked, party and dance all day. At night, like all dragonflies, she slept.
To take care of the everything else, she would have time, right? Work, family, housekeeping and errands, that would be for later. This Dragonfly was right. So much so that she spent most of her time twirling in the air and dancing from rose to rose. Delicate and carefree as she was, some wanted her to change and tried to darken the picture. But it was a waste of time, because she, she was seeing la vie en rose.
The Story of the Artwork Painted in ink from start to finish, the pattern of this scarf pays homage to Japanese kimono designs and their classic elements. Dragonflies, giant roses, a stylized wave pattern – it's a dream of Japan, poetically reinterpreted by European eyes.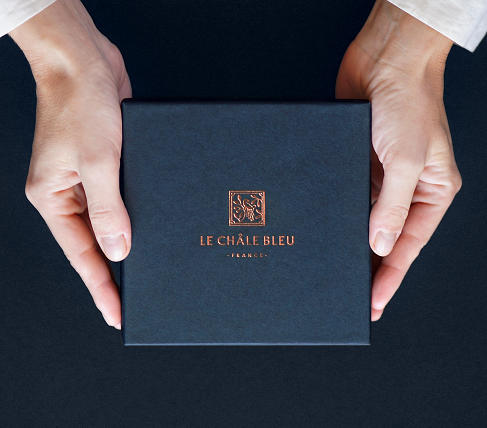 Like all Le Châle Bleu's creations, this bandana is imagined and drawn by hand in France and printed and sewn in Italy, in the Como region.
You will receive your scarf in its precious gift box adorned with a ribbon. Because it is just as important to please yourself as it is to please others ♥
Delivery
Your scarf will be shipped within 2 to 3 working days, so that we can give maximum care to the preparation of your order in its beautiful blue box adorned with ribbon.
• The delivery price of your gavroche scarf in Metropolitan France is 6.25 euros and is carried through a registered letter against signature.
• For other destinations, the delivery price will be indicated when you place your order, once you have completed the delivery address form. You can find more information on the FAQ page.
• Once your order is shipped, you will receive the tracking number by email.
• For information on returns, please visit FAQ page, part "Delivery and returns".
OR (gavroches)
Care
Please, handle your scarf with care. This accessory requires a high quality dry cleaning, or a very delicate hand wash: please do not leave it soaking wet, but wash it gently in soapy water. You can iron your scarf using the "silk" settings.Designed in France, made in Italy