Once upon a time...
...there were Two Sisters. They lived in an extremely attractive little house in the heart of Paris, in Montmartre. Often solicited by wealthy buyers, they had, despite their modest income, never ceased to send them away. One day...
Find out what happens next in the small leaflet accompanying your blanket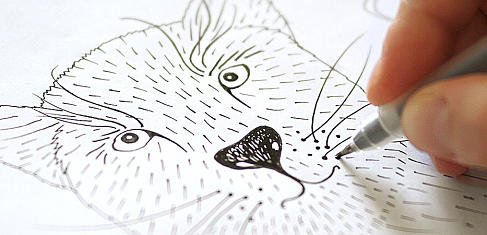 Like a real treat for you and your home, your blanket will come in a cotton tote bag adorned with the original design: a beautiful and useful gift wrap at the same time. The drawing of your bag is handmade and silkscreen printed in a French atelier.
Manufacturing
Le Châle Bleu blankets are made in one of the oldest weaving mills in the United States, run by the third generation of the same family since the 1930s.
They are woven in cotton yarns of 6 different colors. This process allows to obtain almost 200 shades and to reproduce on a traditional cotton jacquard the color richness of the original drawings, without being constrained by the too important quantities, typical of the jacquard weaving technique. Thus, your plaid remains an original and rare object, woven in limited edition.
Care
Machine wash in cold water, gentle cycle, tumble dry at low temperature.
Delivery
Your blanket will be shipped within 2 to 3 working days.
• Delivery is ensured by Colissimo against signature.
• Once your order is shipped, you will receive the tracking number by email.
• Delivery in Metropolitan France is free for orders over 100 €.
• For other destinations, the delivery price will be indicated when you place your order, once you have completed the delivery address form. You can find more information on the FAQ page.