Once upon a time...
...there was a Tiger. With his happy and nonchalant nature, there was no question of him becoming "serious" (...which, according to his father, meant settling down and starting a family). "What for?" he thought. He was pleasantly enjoying his life. He changed jobs and cities without bothering with all those existential questions.
Time passed. The girlfriends of his joyful days were getting discouraged, his friends gently teased him and introduced their single colleagues. But the Tiger knew that when he would meet Her, he would recognize Her at once. And that with Her, he would live a story that would last a lifetime.
And then one day it happened. Unpredictable! Because yes, for sure, opposites do attract. But no one expected this, not her more than him! A Tiger and a Leopard, really?
The wedding was the most joyful, and everybody was happily mixed, stripes and spots. They live happily ever after and had many children, cheerfully spotted-striped, of course.
The Story of Artwork This design is born from an idea or, better said, a desire of the brand's designer to paint and bring together both Tigers and Leopards. So, instead of choosing between spots and stripes, she chose to keep both... and to mix their wild coats in a poetic love story – a tale as only Le Châle Bleu can tell! "The Tiger's Bride" is the story of a drawing and a dream, where planets line up, opposites get attracted, and wonderful striped and spotted kids come to life.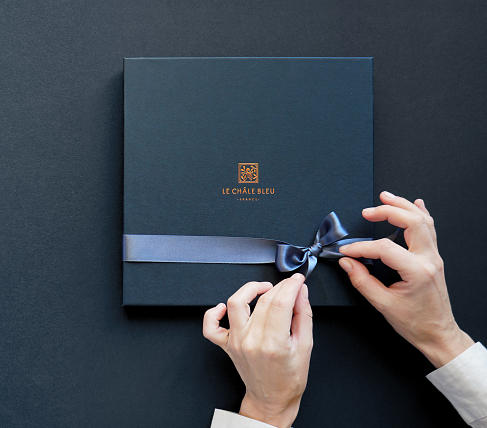 Like all Le Châle Bleu's creations, this stole is imagined and drawn by hand in France and printed and sewn in Italy, in the Como region.
You will receive your scarf in its precious gift box adorned with a ribbon. Because it is just as important to please yourself as it is to please others ♥
Delivery
Your scarf will be shipped within 2 to 3 working days, so that we can give maximum care to the preparation of your order in its beautiful blue box adorned with ribbon.
• The delivery price of your gavroche scarf in Metropolitan France is 6.25 euros and is carried through a registered letter against signature.
• For other destinations, the delivery price will be indicated when you place your order, once you have completed the delivery address form. You can find more information on the FAQ page.
• Once your order is shipped, you will receive the tracking number by email.
• For information on returns, please visit FAQ page, part "Delivery and returns".
OR (gavroches)
Care
Please, handle your scarf with care. This accessory requires a high quality dry cleaning, or a very delicate hand wash: please do not leave it soaking wet, but wash it gently in soapy water. You can iron your scarf using the "silk" settings.Designed in France, made in Italy